Finished up quite a few products in the past months and any beauty junkie can tell you that the feeling of finishing a products is just awesome. This is going to be a long one. I hope you enjoy <3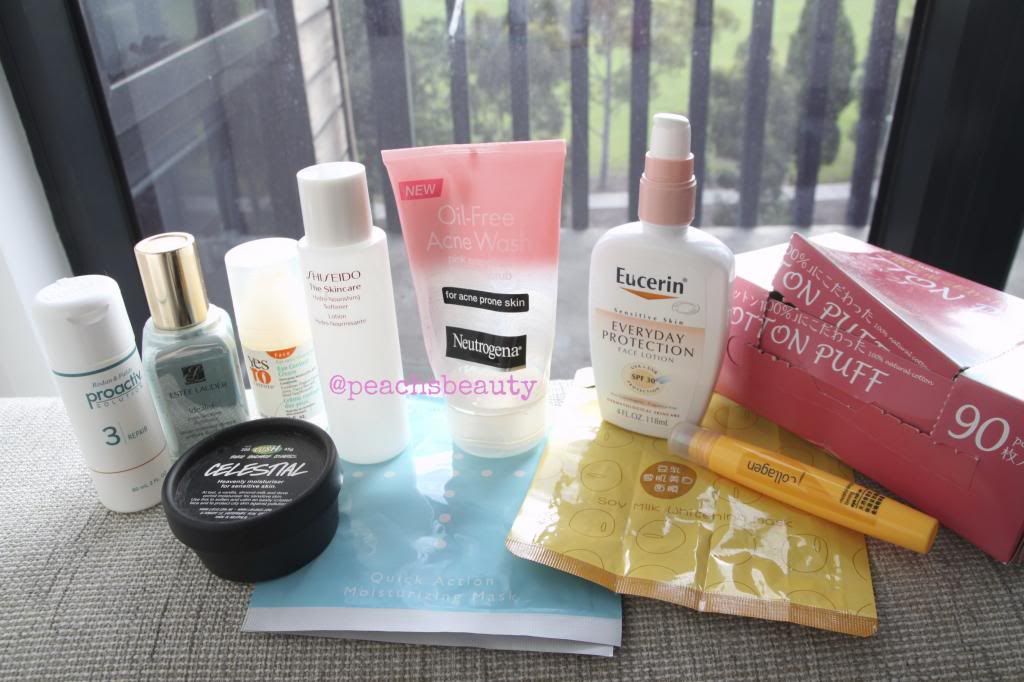 - Proactiv Step 3: Repair -
This is (obviously) step 3 of the 3-step Proactiv system and it's a 2.5% benzoyl peroxide (bp) treatment. Proactiv is really hit and miss for people and I can do a blogpost on my experience if you're interested. I first tried their products 10 year ago so we kind of go way back. Long story short, I do like the Proactiv products and I really rely on using a 2.5% bp cream all over my face as a preventative measure for when my skin is going through a freak out / break out period. This is a good one to use and it has a 'best' rating on beautypedia however I feel like mixing equal parts 5% bp and my normal moisturiser works just as well for me. I won't be repurchasing because my skin is okay at the moment and I already picked up a normal 2.5% bp treatment from the chemist.
- Estee Lauder Idealist -
I love this stuff. The first product where I actual noticed my acne scars lightening. It also has tiny shimmers in it that I guess 'brighten' your skin, but you can't see it at all. I tried to save the product by only using it during the day and I still noticed a difference. I only use it after my breakout periods when only the scars are left and not when I have active breakouts. I won't be repurchasing because I'm using Vitamin E at the moment and I feel like it leaves my skin nice and soft, as well as lighten any acne scarring.
- Yes to Carrots Eye can C Clearly Now Eye Contour Cream -
This is just a moisturising eye cream which didn't claim be anti-ageing or help puffiness and dark circles. Came in a huge 30ml pump bottle which took forever to use up but I do like the packaging. I don't think they actually sell this anymore.. but it was fairly basic eye cream and I wouldn't have repurchased anyway.
- Shiseido The Skincare Lotion -
I think The Skincare range is their most basic and it just helps to keep your skin nice and moisturised. They call it a 'lotion' but it's actually a 'toner'. It's one of those thick 'toners' that's almost halfway to a serum. I still used a cotton pad to apply because I guess I was trying to use it up but it is thick enough to get a few drops into your hands and pat it into your skin. I won't be repurchasing because I didn't feel like it did much for me and there are definitely other products out there that I'd like to try.
- Lush Celestial Mosturiser -
This is a fairly thick and rich moisturiser that is perfect for dry, sensitive, irritated skin. I only use this in winter (aka 10 months of the year in Melbourne) so I finished it probably around November. I personally think it smells like vanilla ice cream.. but apparently not. I would repurchase if I get really dry, itchy, irritated skin again but other than that I did feel it was a little bit too rich for an everyday moisturiser for my normal/dry skin.
- Neutrogena Pink Grapefruit Foaming Scrub -
I really like this product as just an everyday night time cleanser that can take off minimal makeup. They do have a cream cleanser and normal cleanser version without the scrub as well but I have personally never tried them and the scrub is really not too rough or drying for everyday use so I've never felt the need to try the other alternatives. I also like to use this with my Clarisonic for the nights I do use it. This might be my first or second empty bottle but I have two half way done and a full backup. Love this stuff and I get the twin pack from Costco!
- Silk Whitia Quick Action Moisturising Mask -
This was an okay sheet mask. It's one of those that you have to wash off and they recommend using everyday so I'm not really sold of the effectiveness of them. It's just fun to add a little something extra to your skincare on days when you want to pamper yourself. I got suckered into the buy one get one free offer on sasa but I won't be repurchasing anything from Silk Whita.
- Silk Whitia Soy Milk Whitening Mask -
Same as above with this mask. I do like the soy milk smell though. Makes me crave Peal Milk Tea every time.. I'm weird.
- Eucerin Everyday Protection SPF 30 -
This is a really good everyday basic moisturiser with SPF. It doesn't feel thick or greasy. It's just really comfortable to wear, sinks in really quickly and I know I'm covered for SPF on my face and neck even if my makeup doesn't happen to have SPF in it. I would definitely repurchase if I could get my hands on it but I know there are lots of other basic SPF moisturisers that I can easily access here.
- Watsons Collagen Eye Roller -
Didn't notice anything crazy but was nice to massage around the eyes. Probably wouldn't repurchase.
- Daiso Cotton Puffs -
Always have this in my empties. Favourite super cheap Cotton Pads. Always have backups!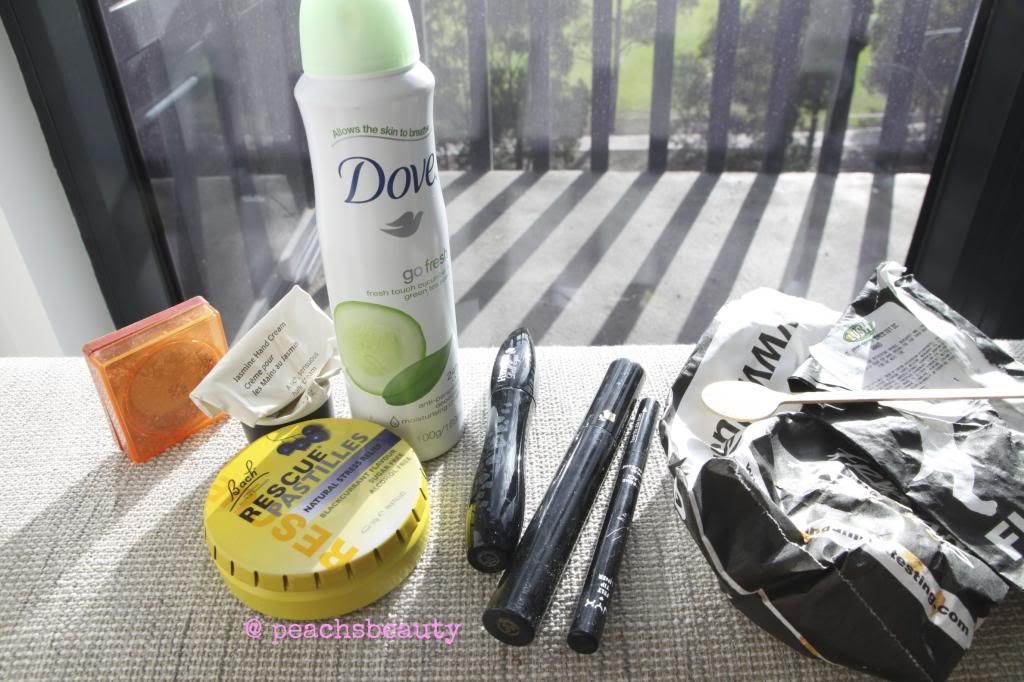 - Estee Lauder Bronzer -
This is so old.. but it was a pretty good bronzer. I use it as a contour/blush because it's not like a cool-toned taupy contour colour, it's warm but not too orange that you look crazy. This is probably the product that cured my phobia of bronzers and realise that they can work for pale skin too. I would repurchase but I have a couple in my stash at the moment and some other I'd love to try.
- Jurlique Jasmine Hand Cream -
This is my favourite hand cream scent from them and I would repurchase but I have so many hand cream to use up.. omg. Is really moisturising but absorbs quickly. I have a rose one on my bedside table at the moment.
- Dove Go Fresh -
I really like the fresh scent of this but find that most deoderant sprays make me choke..like I breath in the particles after I spray and I start coughing.. I dno. Anyway, I just stick to roll-ons now.
- Bach Rescue Pastilles -
These are amazing, my secret weapon. They really do work, it's not just a mental thing. I really need to get some more but I want to order them through iherb because they're a little bit cheaper.
- Lancome Hypnose Doll Eyes Mascara -
I liked this formula but I didn't like the brush. I understand that the point of having a tapered or cone brush is to coat every lash, even the small inner lashes but I dno.. I just personally prefer a large brush in general. I did mean I could use the small end on my lower lashes without having to switch mascaras which is good. I wouldn't repurchase just because I feel like I can find budget alternatives that work just as well.
- Lancome Oscillation Mascara -
This is my favourite luxury aka expensive mascara. It really volumises and lengthens and of course the oscillating motion separates like nothing else. One coat for natural long lashes, two coats for some added drama and three coats for an amazing false lash effect and you can build it up till you look you have two furry animals on your lashes but still not look clumpy. It's just awesome. I think (hope) I still have a backup of this in my stash in Sydney.. ps. I just looked on the Lancome website and it's not there anymore. Why?!
- NYX Felt Tip Liner -
Sorry, this stuff is rubbish. It's not even black, it's like a dark green and dried out in 2 seconds.. Maybe I got a dud but not worth another try.
- Lush.. stuff? -
OMG I can't even see/remember what these three Lush items were.. fail. It's 20 degrees and freezing as I type this so I'm really wishing for a nice warm Lush bath.. ahh..
So that's it for my recent empties, I'd love to know what you've finished up lately. Empties videos and posts are like my favourite to watch/read so if you've done one, leave a link below!
Speak soon,
* Everything mentioned in this post was purchased by yours truly unless otherwise stated. My reviews and thoughts are always 100% honest. Thanks for reading! (: