Today I'm doing a review on some products
Aphelia Cosmetology
sent me and there'll also be a giveaway so keep reading for details!
Products mentioned:
Fusion Herbal Dark Circle Treatment Essence
Oasis Acne Treatment Essence
Luminance Whitening & Lightening Creme
Peony Advanced Beautifying Eye Creme Specifically For Eye Fine Lines
What you could win - Giveaway prize!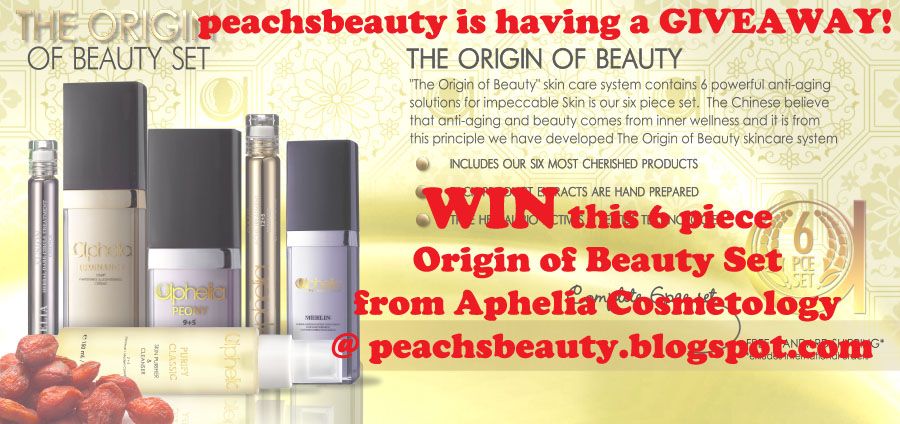 The Origin of Beauty Set
includes:
-
Peony
advanced eye cream anti-wrinkle and fine line eye cream
-
Fusion
dark circle under eye treatment redresses the appearance of dark circles under eyes, lightening and brightening the eye area
-
Merlin
ultimate skin perfecting cream for wrinkles and fine lines with 10 oriental concentrates complemented with 5 modern cosmetic essentials
-
Luminance
for diminishing pigmentation, dark spot, redness, age spots, sun spots and redress acne scarring. Perfection in skin perfection for even skin tone
-
Oasis
a potent defence against acneand adult acne.
-
Purify Classic
a cleanser prized for its sebum removal and make up removal. It promises transparency and radiance to fatigued skin
2
ways to enter ~
1-BLOG (using rafflecopter)
2-YOUTUBE
a. Subscribe to
peachsbeautyfamily
b. Like my
Skincare Sunday: Aphelia Cosmetology
video
c. Leave a comment on the video telling me what if your favourite skincare product/tip/method
Giveaway Details:
| Aphelia has made this giveaway open to Australia only - sorry my international readers :(
| If you are 16 or under, please get permission from your parents as I will require your address if you win.
| Aphelia Costmetology will be responsible for sending out The Origin of Beauty set.
| This giveaway ends on
midnight 30th of June, 2013 AEST
(Sydney, Melbourne, Canberra you know).
| The winner will be drawn shortly after and announced on my blog, twitter and instagram. I will also email the winner and they have 48 hours to respond with their address. If I don't hear anything from them in this time, I will pick another winner and again they have 48 hours.
| NOTE: This giveaway is running on both
youtube
and my
blog
, which means that yes, you can enter at both places. It also means that the ONE winner may be either someone who enters from the youtube video or someone who enters through rafflecopter on my
blog
. There will not be a winner drawn from both places.. I hope that makes sense. Feel free to leave me a comment/email/message if any of the rules or details of the giveaway aren't clear to you.
a Rafflecopter giveaway
Good luck guys and I look forward to reading all your skincare tips!
xx
peachsbeauty
email:
peachsbeautyfamily@gmail.com
youtube:
peacshbeautyfamily
bloglovin:
peach
twitter:
@peachsbeauty
instagram:
@peachsbeauty
pinterest:
peachsbeauty
Products featured in this post were provided for consideration by Aphelia Cosmetology. Reviews and opinions are always my own and 100% honest. Thank you for reading.